[su_column size="1″ center="no" class=""]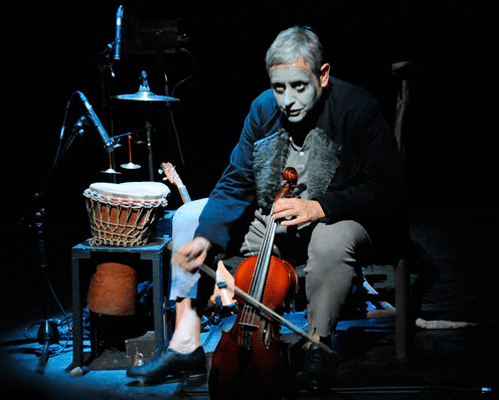 Creative Team
Alexandra LUPIDI
Mezzo soprano · Composer · Instrumentalist (guitar, percussion, double bass, self built instruments)
My artistic adventure with Ilka started with the creation of The Old Lady and the Beast seven years ago, followed soon after by Sinon je te mange… (Or I'll Eat You…).
Seven years during which we shared the stage, the road and the tour. Seven years of artistic discovery and enrichment at her side. Sinon je te mange…
Alexandra Lupidi started singing and playing jazz at a young age. Later she discovered classical music and traditional music from Italy and Spain. She has played in various jazz bands, from duos to big bands, with a preference for vocal improvisation (Sunset, Bilboquet, Café Universel).
She trained with classical singer Christiane Eda-Pierre, then with Christophe Le Hazif and sang on stage in a large number of opera choruses (Chatelet, Opera-Comique, Opera of Montpellier, Rennes, Angers). As a soloist, she played the Child in Der Jasager by Kurt Weill, directed by Ludovic Lagarde, and Candelas in L'Amour Sorcier, by Manuel de Falla, in flamenca version, at the operas of Rouen and Evreux, conducted by Laurence Equilbey. Joining a capella quartet Sanacore, which performs all around France and abroad, she tied up her Italian origins with traditional music.
She sang in the vocal quartet Les Lunettes (director Ludovic Montet), which improvises on Bach, Juan del Encina, Schütz. At the same time, she composed, sang and performed in works for theatre and dance, with the companies Arène- Théâtre, Courant d'air, Balançoire, Théâtre Itinérent de la Cabane, Retouramont. She created the group Alessandra Lupidi with her stage partner Frank Gervais. As a choir director, she conducted the choir Pablo Neruda at Bagnolet.
In her work in The Old Lady and the Beast and even more so in Sinon je te mange… with Ilka Schönbein she travels through all her vocal and musical colours. She composed the music for Laurie Cannac's production Fish tail (directed by Ilka Schönbein) as well as for her new production Blanche-Ebène.
© Marinette Delannée 2014
SUSKA KANZLER
Tambura · Voice · Set building
Since 1995, she has worked as a freelance master carpenter specialising in traditionally
crafted wooden furniture. It was by making two harps for her own use that she discovered her
love of instrument making. In 2015, she came across the Tambura and now makes Tamburas
of all sizes and shapes.
She also practises sound massage, using the Tambura to make sounds on the human body for
healing purposes. She has travelled with Ilka to churches, monasteries and other acoustic
spaces to play, sing and experiment with sound. Since 2015, she has been organising the
annual puppet festival, "Darmstädter Figurentheatertage", at her collective home Wagenplatz
Diogenes. In 2016, she designed and built the set for Rumpelstiltskin and Creatures.  © Marinette Delannée 2017

Anja SCHIMANSKI
Assistant director · Lighting designer
She discovered her passion for theater lighting and lighting design when she joined the Women's Circus during a sabbatical in Australia in 2000. After completing workshops in light, sound and rigging, she worked as a general technician and then lighting technician for Ghosts and Odditorium, large-scale Women's Circus shows involving more than 50 performers. © Matthias Rücker © Marinette Delannée 2017 Returning to Germany, she worked for independent theatre companies, dance festivals and finally for a number of years as a lighting, sound and stage technician for Rex Theatre in Wuppertal, Germany, staging shows for visiting international theatre companies.
In 2009 she finished a three-year degree in lighting and technical direction at G+B Academy, Cologne, and started working as a freelance lighting designer and technician for Wuppertaler Bühnen Theater, the Chamber Opera Cologne and other theatres. She creates lighting concepts for theater and puppetry productions ( Jedem Chaos wohnt ein Zauber inne, Fundevogel, Theater Kranewit, Berlin), contemporary circus (Tent'à Bulles), concerts (Casa Mia, Sanacore, Paris) and international festivals. In 2015 she worked as the technical director for the show Wings in my Heart by RIGOLO Swiss Nouveau Cirque in Winterthur, Switzerland.
She has been a sound and light technician on the Music Festival Wilhelmsburg 48h in Hamburg, Germany, and in 2016 she was the sound technician at the festival Les Festivalières, Mont de Marsan, France. Her close collaboration with Ilka Schönbein began in 2009. She created and realised the lighting design for her international tours of The Old Lady and the Beast (2009), Aber der Wolf fand sie alle! , 2012 (But the Wolf Found Them All! ) and Sinon je te mange… , 2014.
[/su_column]